Asian Fashion Trends: What's in this 2016?
Every year, there are new styles that set the trend in the fashion industry. The same is true in Asian countries where designing, selling and buying of clothes has become one of the biggest contributors in the economic boom. The designers are playing a major role in the popularity of Asian fashion. Among those that are currently making noise in the industry are Richard Chai, Jason Wu, and Alexander Wang. There are also those that have become household names like Vera Wang, Anna Sui, Michael Cinco and Monique Lhuillier.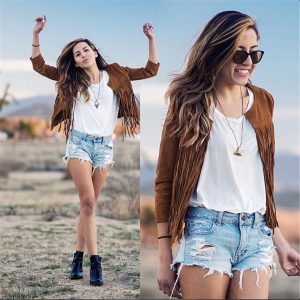 This year, veteran and newbie designers are all contributing to the ideas and styles that are currently in trend. Here are what's in this 2016:
Fringed Open Jackets
The colder seasons are the best times to stay fashionable in your jackets. The Korean style is one of the Asian creative ideas that are now currently influencing the styling of celebrities, prominent people and those who are just fashion-savvy. For autumn or during cold nights, the fringe open jacket is one impressive piece that you can wear to look really good but without compromising function. It is recommended for long travels. Usually, the style involves patch pockets, long sleeves, boxy fit bodice, fringe details, pointed collars and open front.
Solar Couture
It seems that function is one of the concerns that modern and innovative clothing designers are taking into consideration in recent years. A super-haute trend this year, solar couture that refers to sun-powered wearables are now becoming a fad in many Asian and non-Asian countries. Today, there are solar t-shirts that can be used by the wearers to charge their smartphones. There are now also jackets that are field with solar panels, USB port and battery pack that are usually placed in the jacket's front pocket. You may think it's too techy but just imagine the practicality of having one. Asian designers are optimizing the currently most flexible solar panel that was developed in South Korea.
Tie-Dyes
Want to look cool in your casual wear? Then experiment on wearing tie-dye dresses and mix and match them with different accessories. One brilliant idea is to wear tie-dye dress in red shades with uneven hemline. Then partner it with semi-high cut wedge shoes in grayish maroon or brown color. If attending a lunch with friends, you can bring a deep watery maroon leather bag. Don't forget to wear a chic pair of sunnies and you're good to go.
Boho-Luxe
The luxurious version of bohemian style has been trending and seems like going to stay for so many years. There are different ways to achieve the style. One is wearing of white sheer fabric with prints in a one or different colors. Dark blue, black and dark red prints look really classy on an all off-white canvas. What's great about boho-luxe is the comfort it provides while looking expensive and classy at the same time.
With these trends, both Asian and non-Asian fashion-savvy women can always look good wherever they go. Just keep visiting our blog for updates and interesting fashion ideas.
Recommendation

,