Nothing More Affordable than Korean Fashion
If you are limited by your budget, but you still want to keep up with the latest flows from fashion magazines and catwalks, then Korean fashion is the answer for you. Their clothes are extremely chic and they also cost much less than the overpriced designer outfits. This means that you can enjoy the stylish dress you want while putting some money aside and proving that you can manage your budget in a smart way. Even more, buying Korean clothing online helps you save both money and time as well.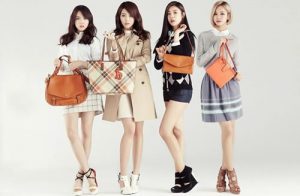 When fashion has become such an important part of our lives, being in line with the latest trends can get a little bit costly. A designer dress is something we can rarely afford for real. And, even more, if you think about how fast do these flows change, keeping up with them can only mean that you have to constantly change your wardrobe. This can cut a big hole in your budget and this is definitely something you don't want. But sometimes, you will reach the point when you would do anything for the sake of fashion. After all, once you have entered this vicious circle, it is very difficult to get away from it.
However, going beyond your budget limit is something you shouldn't do, especially when you have such a good alternative. Asian trends are a new and inspiring branch in fashion and their demand on a worldwide scale is constantly increasing. But don't imagine it is about kimonos or about long, colorful dresses. In fact, the Korean clothes you can find today almost everywhere come with an extremely creative and modern concept. There are many girly dresses and beautiful soft blouses waiting to be discovered and placed in the right wardrobe.
All pieces of clothing are carefully selected and frequently updated. And all of them are constantly in line with the latest fashion trends. This way, they provide the perfect solution to a stylish update of your personal wardrobe. When you think about shopping, another big problem is the fact that, usually, you have to wonder from one store to another until you finally manage to find something that is both beautiful and affordable. It is true, shopping can be a fun activity but sometimes it can go the other way too. If you don't have enough time to waste on such activities, shopping for Korean clothes online might be the best alternative. You get to enjoy the same relaxing experience from the comfort of your own home. Shopping online is fast, affordable and it gives you the chance to have your favorite pieces of clothing delivered to your own door. Not to mention, with the same amount of money you used to spend only on one dress, you can now enjoy more pieces of clothing at once.